5th Annual Arc Run 2020! 5K/10K Walk or Run
September 26, 2020 @ 9:15 am
NEW protocols for our race this year due to COVID-19:
Just as with our programming, we have adapted this year's Arc Run, in accordance with CT State Guidelines, to keep you all safe and socially distanced during our onsite Arc Run.
Arc Run 2020 offers 4 great ways to participate and support MidState Arc!
Runners/Walkers can choose to run 5K or 10K ONSITE or VIRTUALLY.
ONSITE participants will be officially timed on our USA Track & Field (USATF) certified course that will begin and end at 200 Research Parkway, Meriden, CT.
VIRTUAL participants can run/walk in your own neighborhood or wherever you prefer. You should submit times by midnight Sept 26 using the following online form http://www.plattsys.com/a_virtual.php
DEADLINE to register: Friday, 9/25/20 at 9pm
All proceeds will help people with intellectual and developmental disabilities lead more independent and fulfilling lives. 

**WORRY FREE REGISTRATION and PARTICIPATION**
START LINE PROCEDURES
Runners will line up in a single file behind the start line.
Runners will maintain social distancing of 6 ft apart.
Faster runners (under 24 minutes for the 5k) will go out in the first group.
All runners and walkers will walk in a single file through the start line, one person every 10 seconds.
Your time begins when you cross the Start System.
Online race registration will close at 9 pm the night before the race on September 25, and there will be no race day registrations allowed.
Participants must wear a mask to pick up their racenumber
No congregating will be allowed before or after theevent.
Water will only be provided at the finish line, so please bring your own fluids for the race course.
Results will be posted to www.plattsys.com and will not be posted at the race site to ensure social distancing.
There will not be an in-person awards ceremony, but all onsite and virtual runners and walkers and all Arc Run Sponsors will receive an invitation to a Zoom Awards Ceremony to be held later in the day on September 26th.
All awards/cash prizes will be mailed to the Top Finishers and other award winners.
There will be no T-shirts, goody bags, or food distributed to runners, although all run participants will receive a Dunkin Donuts Gift Card via mail in lieu of an Arc Run T-shirt.
We need your support this year more than ever! With so many ways to participate, we hope you will encourage your friends, family and colleagues from near and far to join you to run or walk for MidState Arc - thank you!!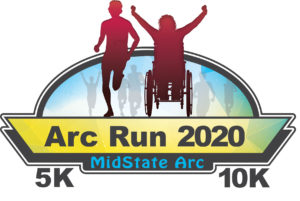 Opening Ceremony - 9am
Race Kick Off - 9:15am
To register to Run, click below
Click here to register
To Sponsor, click below to reach our PayPal link
Click here to Donate & Become a Sponsor (PayPal Donate)
For details about sponsor level opportunities: MidState Arc Run 2020 Sponsor Levels.pdf
For the sponsor registration form: MidState Arc Run 2020 Sponsor Registration Form.pdf
To help us out by Volunteering, click the email below
Contact Doreen Carron for details on becoming a Volunteer DCarron@midstatearc.org
Deadline to volunteer is September 15th.
---
MEET OUR CURRENT SPONSORS