5th Annual Arc Run 2020! 5K/10K Walk or Run
NEW protocols for our race this year due to COVID-19:
Just as with our programming, we have adapted this year's Arc Run to accommodate all runners so that everyone can be safe and comfortable as they join us to raise needed funds for MidState Arc. This year we are offering 4 great ways to run and support MidState Arc! 
Runners can choose to run 5K or 10K virtually -- in their own neighborhood or wherever they prefer.  Or, if runners want to be officially timed, they can join us to run 5K or 10K on our USA Track & Field (USATF) certified course that will begin and end at 200 Research Parkway, Meriden, CT. 
Onsite runners will maintain safe social distance with staggered start times, and all runners, volunteers/staff will wear masks at registration. 
Cash prizes for the top onsite runners and awards for our virtual runners will be announced in a Zoom Awards Ceremony where we will also acknowledge our sponsors.
Register today and help support MidState Arc's efforts!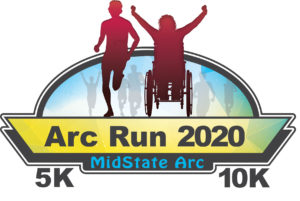 Same-day registration - 8am
Opening Ceremony - 9am
Race Kick Off - 9:15am
To register to Run, click below
Click here to register

To Sponsor, click below to reach our PayPal link
Click here to Donate & Become a Sponsor (PayPal Donate)
For details about sponsor level opportunities: MidState Arc Run 2020 Sponsor Levels.pdf
For the sponsor registration form: MidState Arc Run 2020 Sponsor Registration Form.pdf

Check back for Volunteer information...